No matter how much I try to deny it, Father's Day is by far the toughest day of the year for me.  Many of you know, that my father passed away at a very young age after what can only be described as the most bizarre period of my life.  In 2000, I was 22 years old, newly married and I hadn't had my children yet.  Dad slipped away into the confusing and heartbreaking journey through Alzheimer's, despite only being in his 40's.
It wasn't until over 15 years later that I finally started properly grieving his death.  Some days I still look at my daughters and a wave of anger washes over me – how could he be missing all of this, all of these moments, the laughter, the family visits and these granddaughters that he so enthusiastically looked forward to spoiling to bits?
I'm not a rational person when it comes to Father's Day. I see kids struggle through the stage of not treating their parents well and my heart hurts for all the times I was rough on my poor dad.
Despite being generally sad on Father's Day, I am very aware of how fortunate I am to have great dads in my life still.  Mike, the girl's dad has always been a great father.  I treasure my conversations with Doug, Brent's stepdad and I enjoy visits with David, Brent's dad.  The last two years I have really loved watching my brother in law Chris shine as a dad, and of course my brother Dan is pretty much the exact replica of what I remember my dad being like when I see him with his girls.
There are countless other dad's in my life that I admire.  But this year, I'd like to tribute my husband Brent.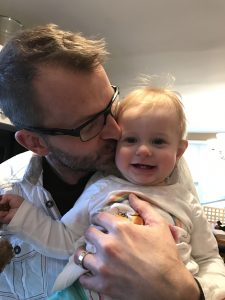 It's really hard to put into words what has happened to me this last week or so, but I can tell you that the events that unfolded have completely transformed my perspective on this man.  As in any marriage, things haven't been easy.  We are both smart, and come equipped with our own firm set of values and opinions. Those haven't always lined up. But now, I think I finally see that what I have been looking for in him has been there all along. I just never knew it until this week.  I realize that might sound ridiculous – after all, I am married to the man. Just hear me out….
One week ago today, I was in Grand Marais with my friend Lauren. We were blissfully basking in the afterglow of an epic spa day, making our way back home.  About 2 hours from town, my phone rang.  It was Mike, calling me from an ambulance, where he was with Camryn headed to the hospital.  In the short conversation that I can't fully remember today, he explained that she had broken her leg while dirt biking at his camp.
Shaking, I realized that I couldn't be there when she got to the hospital. I immediately called Brent, explained what I knew of the situation and asked him to be at the hospital with her. All he said was "Yes."
When I arrived at emergency room two hours later, I walked in to find Camryn in a highly anxious state – and there was Brent at her bedside.  He stayed there, until almost 11pm.  He arrived at the hospital again at 7:30am with a bag packed for her, and he stayed with me all day Sunday while she had her surgery, got settled back in her room, and finally left at nearly 10pm that night. Just as I was getting settled in my "hospital chair that pretends to be a bed" a text came in that said "I miss you."
I just stared at my phone, in disbelief.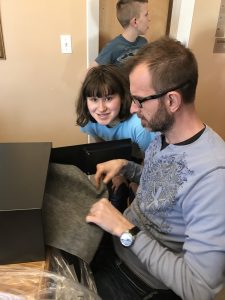 This man, who had spent nearly 48 hours non-stop by my side, who had been nothing but steadfast, calm, and comforting for me, and for a child that *isn't even his* leaves and then 15 minutes later tells me he misses me?
A wave of emotion came over me. Because every day, he chooses this life.  He doesn't have to, but he does.  And when shit gets real, he doesn't waver. Ever.  I thought about all the times I felt angry with him for not buying me flowers, or not saying the exact romantic thing I wanted to say at the exact moment I wanted him to say it and how in those moments I thought he was just the worst person ever and I felt shame. Because, if that same man can stand with me at my worst and tell me he misses me then he deserves my best, forever.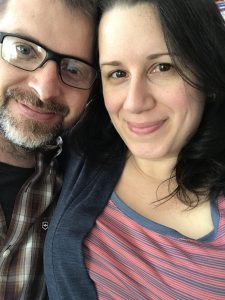 All of a sudden, it was like the lights went on.  I became very, very grateful for the life I have.  I have a man who accepts me as I am, and who wholly and unconditionally loves my daughters as if they are his. And that makes Father's Day a really, really amazing thing to celebrate.
Happy Father's Day Brent
Love,
All your girls