Another week! Amazing.  Time is sure flying here.  We have gotten into a pretty good daily routine – we wake up, eat breakfast as a family, hang out at the house until mid-morning, then we venture out for lunch.  Each day we try a different "warung" (which, directly translates to 'shop' but we have learned means 'small café or restaurant') and sample unique cuisine.
Then, we head to the beach or to whatever activity we have planned, and we reconvene at dinner for a home cooked meal. After supper, someone does the dishes (7 people, 7 days of the week. Coincidence? I think not) and we either do a family movie or we have a family conversation about something important.
It's been equally nice, and not nice.  Our house is small and cozy, which is great until someone is in a grumpy mood. It sure doesn't take long for that to spread like wildfire through our little group.  Luckily, we have had some really good conversations to talk through what's going on. I think we are making headway.
Brent and I decided that we would limit activities to one per week – for a few reasons. First, money. We sure can't afford to rent jet-skis for 7 people each day. Second, exhaustion factor.  We experienced that we need about two days to properly recover and re-engergize for the next adventure. Third, time – there has been great value in just hanging out.
Our Place
The house we rented is exactly what it appeared to be in the photos, however, it's no secret now that the owner deliberately tried to angle the shots to make the rooms look bigger than they are.  The kitchen is a long galley style that gets really crowded, really quickly.  I have to walk past the sink, fridge and counter to get to the stove. When I'm standing at the stove, I'm directly blocking the main bathroom door, and also the door that leads to Logan's room. Cooking here has been a challenge at times, particularly trying to bake things.
The decorations are….eclectic to say the least. We have seen many examples of "upcycling" all over the village, and this place is no exception. There is no rhyme or reason to the colour scheme, and yet, I kinda like it.
The house itself is set behind a tall fence, next to a rice field. The grass roof has seen better days, and when it's raining hard, the water pours into the shared bathroom.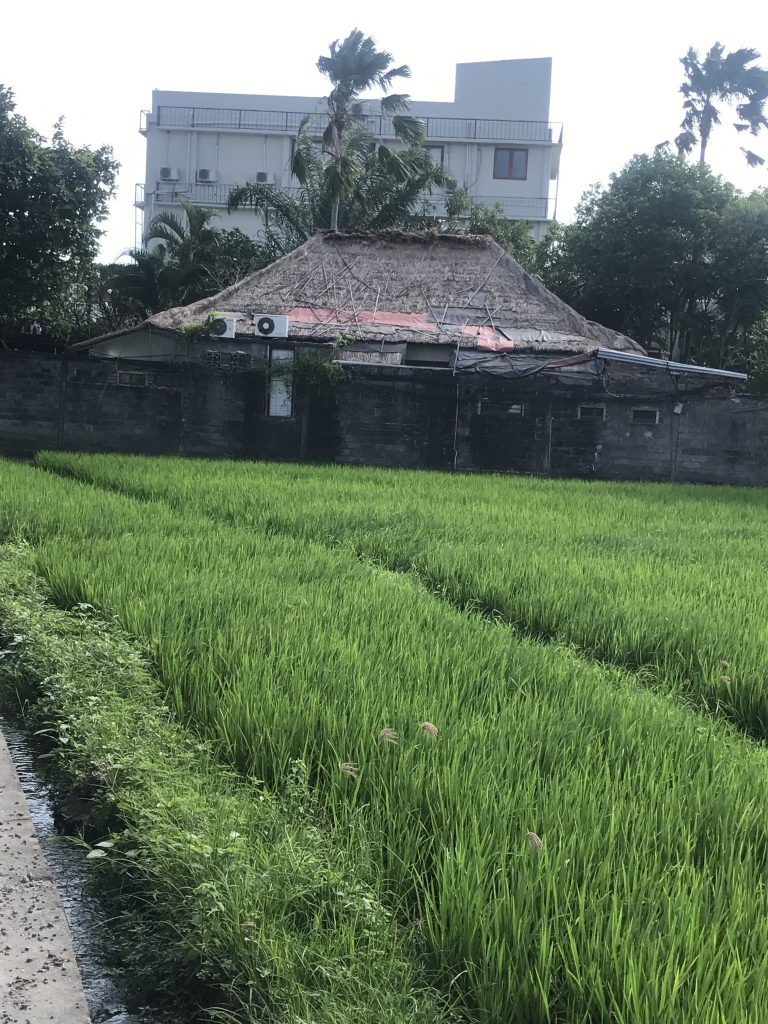 This week's adventure
We asked Komang to take us to Sekumpul waterfalls this week.  We drive up a windy, narrow road that lead into the clouds. I was disappointed in the weather, but on the other side of the mountain, it was like we had entered a whole new world. It was bright, dry and warm.  Another windy drive down the other side of the mountain brought us to the entrance to the waterfall trail.
Many of you know that I'm addicted to hiking, so I was pretty excited. I had read reviews about the waterfalls and how beautiful they were – but I was not at all prepared for the difficulty of the journey, or the awesomeness of the falls.  The trail lead us down over 500 stairs, some of which were no more than a plank of wood stacked on its side. Handrail availability was sketchy at best.  Most of the way down, I was thinking to myself "we eventually have to come back up this mess" and I was aware that both Andria (arthritis) and Camryn (broken femur in June) might have some difficulties.
But, we made it, both down and up, unscathed.  The kids don't hate me, and for the first time ever, I got to stand under a waterfall.  It was amazing, and humbling.  I absolutely loved it.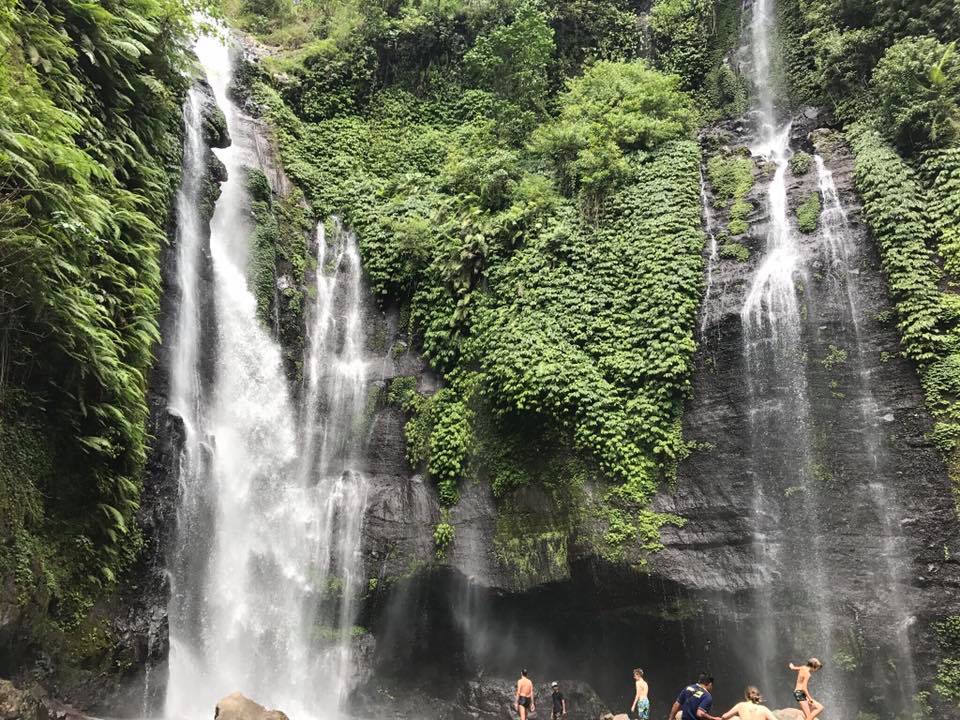 This coming week our adventure will take us to Waterbom – the #2 highest rated waterpark in the world. Stay tuned!