I set my alarm for 4am every day.
Over the last two years, I have developed the habit of preserving my quiet morning time to meditate, pray, do a bit of yoga, read, or even mindlessly scroll through social media.  Most of the time, when someone new figures this out, I get one of a few canned reactions:
You're crazy
I could NEVER do that
Wow, that's amazing, I wish I could do that.
Here's the great news – you CAN. Everyone can.  And, although it takes getting used to, I'd never go back to the days of waking up straight into the morning rush-around.
Mornings can be pure evil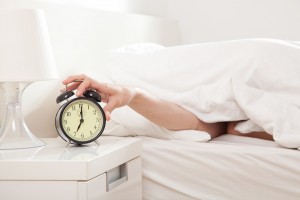 For many of us, mornings are pure evil. The anxiety-inducing buzz of the alarm, bare feet on a floor that feels like the polar ice cap, bleary, crusty eyes that only open halfway, and the endless trudge to the coffee pot (seriously, why does the walk to the coffee pot feel like running a marathon?). Oh, and let's not forget the fact that you look, smell, and sound like a monster that just crawled out of the world's deepest, darkest trench. To top it all off, your roommate/partner/spouse is a (gasp!) morning person. He or she seems to literally jump out of her bed looking like someone who just spent five days at a spa. They're beaming from ear to ear, grinning like some kind of maniacal clown, going on and on about their incredibly detailed plans for the day–all the while singing and laughing in an insanely bubbly voice. As you respond to the endless babbling with a few caveman grunts here and there, you wonder how in the world anyone could possibly be like this every single morning. Although it's hard to believe, there are a lot of morning people in the world, and following just a few of these tips could help you wake up a lot earlier with a lot less struggle:
Ease into it
Turning into an early bird isn't going to happen overnight. You have to ease into it. If you normally get up at 7:00 am (meaning physically getting out of bed, not the first of seven times that your alarm goes off), don't think you're just magically going to start getting up at 5:00 am. Instead, aim for small goals–baby steps. Try getting up at 6:45 for a while, until it feels comfortable (you don't have to be bright-eyed and bushy-tailed like your roommate, but a bit more than barely functional is helpful). Once you are comfortable with your new time, creep it up another 15 minutes. Repeat the process until you reach your final goal.
Imagine
Imagine what you would do with your morning if you could wake up and hop out of bed without needing a gallon of coffee just to open your left eye (the right one takes another gallon). Let your imagination run wild–you could finish that book you've been reading for roughly two years, start a yoga routine, enjoy some early morning gardening, or even go for a run (okay, okay, let's not push it). Whatever you imagine you could do with that extra time, let it be your inspiration.
Wake up to something pleasant
I'm not sure who came up with the idea that alarms had to be, well, alarming. Maybe it wasn't the brightest idea to have the first thing you hear every day be a sound akin to someone hammering nails into your eardrums. None of us like waking up wondering if the house is on fire or if that's just the alarm clock. So find an alternative. Ditch that vexing old alarm clock and try something new. Waking up to music can be very pleasant, or check out some nature sounds apps–you could be waking up to the sounds of rolling waves on the beach rather than a five-alarm fire.
No more excuses
As we talked about earlier, this isn't a change that is going to happen overnight. There are some days that are going to be much tougher than others–days when you'll want to give in to temptation and start beating on that snooze button. You'll justify it with excuses–it's so cold, I was up late last night, I don't feel like making coffee, there's nothing to eat for breakfast, I have so much to do and it's going to be a bad day… In order for this new morning schedule to work, you have to make it tougher to find an excuse. Put slippers near your bed to combat your icy floor, program your coffee pot the night before (not only will it be piping hot and ready when you wake up, the smell will make you hop right out of bed!), prep simple breakfast foods (cut up fruit and store it in the fridge, stock up on yogurt, pour single-servings of cereal in small Tupperware bowls), and get organized. It can be tough to get up when your day feels like a hot mess before you even open your eyes–even a simple list of the things you need to accomplish each day can help. Write it out the night before and stick it on the fridge to help you feel less frazzled in the morning.
Keep a log
Although the actual getting-out-of-bed part is going to be hard, you're going to notice a lot of benefits once you start waking up earlier. You'll feel less stressed, you'll be able to take your time, you'll be more productive, and you'll eat a better breakfast. Keep a log of all the changes (even tiny ones!) that you notice as you start the process of waking up earlier. Keep track of how much you get done in the first few hours of your day as opposed to how productive you were when you slept later. You'll be surprised at how much of a positive impact getting up a little early will have on your life.
It takes perseverance
Changing your sleep pattern to wake earlier isn't an easy thing to do, but it can be done with a little perseverance. There are many benefits to being an early riser–according to Forbes magazine, early birds are more enthusiastic, better problem solvers, better planners, more productive, more optimistic, in better shape, and get this–they sleep better (research shows that people who go to bed earlier and wake up earlier get more restorative sleep). So while you are adjusting to your new wake-up time, just remember all these benefits and keep imagining what you're going to do with all that extra quiet time.
See you in the morning!