For a healthy and happy household, it's essential for you to achieve work-life-balance. A lot of people ask me if it's really possible to live a balanced life when you have kids and the answer is – yes! I've put together some tips for you to try out for yourself so that you can balance work, life, and parenting.
Focus on Work While You're on the Clock
As a parent, I too am all too familiar with that constant feeling of guilt whenever I'm not with my children. However, it's super important for you to realize and accept that it's perfectly okay for you to not be solely focused on them during every waking moment of the day. If you're on the clock for work, use this time to be focused on the tasks at hand.
The next time you're at work, try not to think about any issues regarding your kids. It will be tough at first but practice makes perfect and those kids need a parent who is happy and fulfilled, both professionally and personally! If you have very young kids and can afford it, you might want to consider hiring someone (or speaking nice to an available family member) who can help handle all children-related tasks while you are at work.
No More Checking Email During Family Time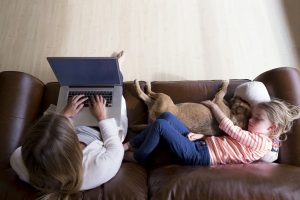 Thanks to the invention of smartphones, it has become increasingly easy to constantly be in the know of new work-related emails, regardless of what time of the day it is. While it might be tempting to check your email whenever you get a notification, try and remember that you'll have plenty of time to look after it during working hours. The benefit of keeping all your thoughts and focus on work while you're on the clock is that family time will truly become family time!
As soon as you start reading your work emails, your attention drifts away from your family and they will notice it even if they don't say anything. Chances are, they probably also start doing their own thing and next thing you know everyone is sitting in the same room together but on their own mobile devices.
Be sure to remind yourself that family time is sacred and use it as a bonding time with your kids and spouse.
Transitioning from Working Mode to Family Time
After being at work all day, it can be difficult to leave all the unresolved issues from work at the door. A tip I like to suggest is using your commute home (whether it's walking, driving or transit) to clear your head of all things related to work. Listen to music, take a quick nap on the train or give meditation a try!
If you have time, hit the gym for a quick workout or stop by a local coffee shop for an afternoon/evening tea or kombucha. This will invigorate your senses and remind your brain that it's time to relax and spend quality time with the family.
Make Time for Yourself
Living a balanced life isn't just about balancing work and family. As the head (or one of the heads) of the household, you need to do whatever is necessary for a healthy mind.
After meeting all the demands of work and family, you might find yourself feeling so tired that you want nothing more than to sleep when given any amount of free time alone. While naps are certainly great, doing other things that you enjoy will also help you feel just as balanced and happy!
What are your favourite things to do?
Need help taking control of your life? Contact me about 1-1 coaching where I can work with you to achieve that work-life-balance that you've always dreamed of.